11 January 2011
Posted by Lynette
DANIEL'S BRIDE
Linda Lael Miller
ISBN #: 0-671-73166-1
Publisher Name: Pocket Books
Date Released: September 1992
Page Count: 377
Genre: Historical Romance
Book Format: Print
BACK COVER BLURB:
Jolie McKibben figured that when a woman has to choose between death and marriage to a total stranger, she must be in a desperate predicament. And Jolie, standing under the hot sun with a noose around her neck, surely was. But something – the defiant lift of her chin or her frightened blue-green eyes – had caught the attention of Daniel Beckham. He stopped the hanging by invoking the town's wedding ordinance and married the pretty "outlaw" on the spot.
So Jolie's hide was saved . . . only her pride was more wounded! Daniel didn't believe she was innocent, and he barely spoke on the drive out to his farm. Worse still, two desperados were on her trail, and she didn't dare confide her troubles to her new husband. Yet under the star-splased Western sky, Jolie trembled whenever this rugged giant of a man came near. Now she hungered for his kisses, dreamed of his touch, and knew she would do anything a woman could to win his love – to be, with her body and soul, truly Daniel's Bride.
COVER SNARK:
I always loved his cover. I love how strong and rugged looks, how sexy Jolie looks and the fact that they look ready to tear each other's clothes off, even if I don't think what Jolie's wearing is realistic for a farmer's wife.
FIRST LINES:
The noose lay heavy around Jolie McKibben's neck, smelling of sweat and horseflesh and hemp. Frantic protests of innocence had long since rendered her throat too raw to speak, and she felt nothing except a certain defiant numbness as she stared back at those who had gathered to see her hanged. Her blue-green eyes were dry and hot, but a tiny stream of perspiration trickled between her breasts, like a tear gone astray.
FAVORITE LINES:
It was then that a big man came out of the mercantile, a flour sack over one thick shoulder, his face hidden by the brim of a large, stained hat. He wore plain brown trousers, a rough-spun shirt the color of buttery cream, and an old buckskin vest. He silenced the yammering spectators just by sweeping them up in a single scathing glance, then set the bag on the wooden sidewalk with an unhurried motion and came down the steps. He crossed a street paved in mud, manure, and sawdust and stood at the rear of the wagon.
By that point, Daniel's concentration was so strained that the ax head bounced off a knot in a piece of wood and came within an inch of opening a crevice in his shin. With a mighty swing, he set the blade deep into the chopping black and then swept off his hat.

"Guess you could go watch her wash if you wanted to," Deuter commented from the doorway of the woodshed. "She's your wife now.'
"Are we just going to pretend that you didn't make love to me last night?" she demanded.

His neck glowed a dull red. "That's no subject for the kitchen, woman," he said sternly. "It's talk for the bedroom."

Jolie was so amazed that she forgot to pour coffee for herself, even though she was yearning for a cup. "I know I owe you my life," she marveled, setting the pot back on the stove and resting her hands on her hips, "and you're my legal husband, which gives you certain rights. But I'll be damned, Dan Beckham, damned, if I'll let you decide what I can say and where I can say it!"

Daniel's gaze did not waver, nor did the arrogance in his manner. "The bacon's burning," he said.
Jolie swallowed hard. "He wasn't pleased with me," she confided miserably. "He said I – I carried on."

Verena's eyes were still twinkling. "I imagine he was a mite surprised at that. Give him time, Jolie – he'll come to like having that kind of response."

The two woman washed the dishes together, and Verena smiled as she saw Daniel approaching the house from the barn. "He'll be wanted to go straight home now, I reckon," she said with a note of mischievous mystery in her voice.
Finally he managed to break the spell that had possessed him and began removing his tie. After that, he took off his coat and vest, and he was unclasping his cuff links when Jolie went to sit on the side of the bed, her hands calmly folded in her lap.

"I suppose I'll probably carry on again," she said ruefully and again that blinding grin broke out over Daniel's face. He pulled her back to her feet and took her into his arms, and when he touched his lips to hers, Jolie felt as though she'd just tossed back a quart of whiskey.
Okay, I could go on and on and my fingers are getting tired. This book is awesome trust me!
LYNETTE'S TWO CENTS:
DANIEL'S BRIDE has traveled the world with me. I bought DANIEL'S BRIDE when it was first released and it's gone with me to every military base I've was stationed at in the Army and everywhere I've lived since I left the military. Of course, my original copy is a tattered mess, but I've picked up several replacements along the way. I think I'm on my third copy of DANIEL'S BRIDE and I'm grateful that I keep finding ones with the original cover.
DANIEL'S BRIDE is one of the few books where I can sprout the opening dialogue out at a moment's notice. Seriously, come up to me on the street and ask me to recite the books opening page to you. I can. I've read DANIEL'S BRIDE that many times. Reading the pages, I've learned the definition of words such as corpulent, penury, tamarack tree, etc.
I LOVE, LOVE, LOVE THIS BOOK. Even all these years later, I get joy from reading it.
DANIEL'S BRIDE was written before Ellora's Cave and erotic romance had made their big boom. DANIEL'S BRIDE was written when the only people really writing erotic romance and getting away with it was Beatrice Small. DANIEL'S BRIDE is the reason why I find it literally impossible to read erotic romance if I cannot buy into the deep emotional bonds between the hero and heroine. DANIEL'S BRIDE is the reason why I roll my eyes when I hear people talking about book boyfriends, or this guy in a book is hot when there wasn't an ounce of emotional connection between the hero and heroine. Of course, today, DANIEL'S BRIDE would not be an erotic romance, would not be anywhere near erotic romance, but back in the day, it had some of the hottest sex scenes around.
God, it is so hard to talk about this book without saying how awesome it is.
Daniel's Bride opens with Jolie about to be hanged. Daniel steps in and saves her, but in order to do so they are forced into a marriage. Daniel is still grieving the loss of his wife and children so he's having a hard time adjusting to the strong feelings that Jolie evokes in him, especially as she is so different from his late wife. Jolie you totally rock, girl! Love you!
Daniel is like one of the original romance Alpha males. Though he sometimes acts like an ass and you want to stab him in the eye with a pitchfork. As an example, right after he and Jolie give into some intense "passion" and have some awesome, awe worthy sex, he tells her that that it didn't change their relationship. That he still can't love her. Yeah. If it was any other book I would have threw it across the floor. But Ms. Miller crafts Daniel's character so perfectly that the reader and Jolie know that it's because he's such a repressed being and was so utterly destroyed by losing everyone he loved. Having said that DANIEL'S BRIDE is not a depressing book and I think it's because of Jolie. She's just as strong if not stronger in some ways than Daniel. Jolie has no problem fighting for her life and her happiness. Jolie fights from the first page from the first line of DANIEL'S BRIDE. Jolie fights when the town is trying to kill her, she fights when Daniel is trying to make her as the 'little woman' and a replica of his late wife, she fights to protect the orphans she takes in, she fights against the outlaws trying to destroy the life she's building for herself, and she fights for her friend who is in an impossible situation. What makes Jolie so awesome is that she does all this fighting while still being a realistic nineteenth century wife, and mother, and farmer.
I don't know what else to say to make you buy this book and read it immediately, only that you're a damn fool if you don't.
That is all! You can thank me later and remember . . . I AM ALWAYS RIGHT, TRUST ME ON THIS ONE!
WHERE PURCHASED:
Bought with my own money over again and again and again!
RATING:
OL' SKOOL ROMANCE CHALLENGE: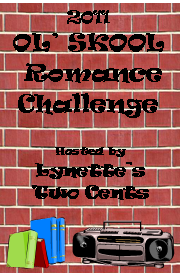 Do you want to win a book of your choice (up to $10.00)? Participate in my OL' SKOOL ROMANCE CHALLENGE by reading a romance novel published before 1996. Then post a review of that book on a blog, goodreads, amazon, etc. making sure you leave a link to my blog in your review. Also, make sure you leave a comment to this post letting me know that you posted a review. If you use my challenge button you'll get an extra point. Do all this by January 31st, for a chance to win! Yes, this is open internationally, well anywhere that the Book Depository ships too!
Good luck!

MY FAVORITE QUOTES
"Do you see, Solange, that you are the only woman in my world? The one woman who can choose life or death for me. You are the center of my world and you always will be. When I tell you that your pleasure is mine, I mean that literally"—
Christine Feehan

POPULAR POSTS

LABELS (SEARCH BY)


ALL ABOUT ME!
Lynette

Mother, wife, aspiring romance writer, blogger, Army vet, book addict
View my complete profile

Blog Rating
Created by OnePlusYou - Free Dating Site

I LOVE THESE BLOGS