26 May 2010
Posted by Lynette
Book Title: NICE GIRLS DON'T HAVE FANGS
Author Name: Molly Harper
ISBN #: 978-1-4165-8942-6
Publisher Name: Pocket Books
Date Released: April 2009
Genre: Paranormal Romance
Book Format: Print
BACK COVER BLURB:
Maybe it was the Shenanigans gift certificate that put her over the edge. When children's librarian and self-professed nice girl Jane Jameson is fired by her beastly boss and handed twenty-five dollars in potato skins instead of a severance check, she goes on a bender that's sure to become Half Moon Hollow legend. On her way home, she's mistaken for a deer, shot, and left for dead. And thanks to the mysterious stranger she met while chugging neon-colored cocktails, she wakes up with a decidedly unladylike thirst for blood.
Jane is now the latest recipient of a gift basket from the Newly Undead Welcoming Committee, and her life-alter-lifestyle is taking some getting used to. Her recently deceased favorite aunt is now her ghostly roommate. She has to fake breathing and endure daytime hours to avoid coming out of the coffin to her family. She's forced to forgo her favorite down-home Southern cooking for bags of O negative. Her relationship with her sexy, mercurial vampire sire keeps running hot and cold. And if all that wasn't enough, it looks like someone in Half Moon Hollow is trying to frame her for a series of vampire murders. What's a nice undead girl to do?
FIRST LINES:
I've always been a glass-half-full kid of girl.

The irritated look from Gary, the barrel-chested bartender at Shenanigans, told me that, one, I'd said that out loud, and two, he just didn't care. But at that point, I was the only person sitting at the pseudo-sports bar on a Wednesday afternoon, and I didn't have the cognitive control required to stop talking. So he had no choice but to listen.
LYNETTE'S TWO CENTS:
NICE GIRLS DON'T HAVE FANGS was a witty, engaging story with interesting characters. I enjoyed reading NICE GIRLS DON'T HAVE FANGS, and laughed out loud several times. It really is funny. If you're looking for a light, fun paranormal read, NICE GIRLS DON'T HAVE FANGS is it. However, having stated that, NICE GIRLS DON'T HAVE FANGS is a perfect example of why I don't read a lot of paranormal romance anymore.
WARNING: MINOR SIDE NOTE THAT'S SORT OF RELATED.
Have I stated that I read romance novels since I could basically read my ABC's? Seriously, I have. And I've read them religiously since that time. I learned vocabulary from romance novels, not school. Seriously, I learned that corpulent meant fat by reading DANIELS BRIDE by Linda Lael Miller years and years and years ago not from school (GREAT BOOK BY THE WAY, ONE OF MY ALL TIME FAVORITE ROMANCE NOVELS NEXT TO MORNING GLORY BY LAVRYLE SPENCER). So having read romance novels all my life, I've read a lot of books.
I also read a lot of paranormal romance novels from back in the day, including Linda Leal Miller's vampire series back when no one was writing paranormal romances except Ann Rice. I got hooked on Sherrilyn Kenyon when the only books she had out was Kyrian's and Julian's. I've read Christine Feehan's Carpathian series when only the first couple were out too. There were a couple years when I read paranormal romances almost exclusively. And now because of Twilight and the end of Harry Potter, everyone started reading paranormal romances just at the time when they're becoming predictable to me.
SIDE NOTE OVER:
My only problem with NICE GIRLS DON'T HAVE FANGS is that while reading it, I couldn't help but feel that I read this story before. A light, humorous romance where a girl is trying to cope with her newfound vampirism, it felt like I was reading a mix of Mary Janice Davidson's Betsy series, Charlaine Harris's Sookie series, with a dash of Stephanie Plum thrown in for good measure. Really, I couldn't shake that feeling. Every time something happened or a new vampire lore was revealed, I had a 'oh, I've seen that before, or oh, that's a mix of this book and this book.' Seriously the heroine felt like a mix of Sookie and Betsy and the hero reminded me strongly of Sinclair. Of course, all this could just be me. As everyone knows by now I'm very orney (hey another word, I picked up from reading romance novels).
Plot Stuff:
Umm, it's pretty much like the back cover blurb actually, thrown in with what you'd imagine Stephanie Plum's family would be if Stephanie was a vampire instead of a bounty hunter. Although I must say the climax of the novel had a kinda 'that's it' feel to it for me.
I'm snarking a little bit. I apologize. Once again, I enjoyed NICE GIRLS DONT HAVE FANGS. It was funny and witty. I just think what hampered my enjoyment and my failure to give it a stronger rating is I wish the author had a fresh take vampires and vampire lore. That really bothered me.
Now, having said all this, because I had the second book sitting in my mound of books in my bedroom, I went and started it right after I finished the first. So feel free to call me out on my B.S. at any time. I know I'm a hypocrite. But if it helps, I did stop reading after the first 70 pages and moved on to something else.
In the end. I really loved the writing and the characters, but this series is not something I would pay money for. It's something I'd look to see if my library had and request it if they had it but would not call and harass them to order it (like I do with a lot of books) if they didn't. It's also something that I wouldn't just say screw it and buy it (if I couldn't get the book in a timely manner, like I did with one of Lauren Dane earlier novels when I was tired of never getting to check it out because someone else had always beat me to it and the hold list was too long for me to wait).
But that's just me. You could be different and it really was a witty story!
WHERE PURCHASED:
Borrowed from the local library because I won the sequel in a Twitter contest and wanted to read the first book before I went on to the second one.
RATING:
C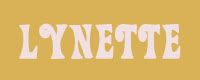 Labels:
Paranormal
,
Reviews: Grade C
ALL ABOUT ME!
Lynette

Mother, wife, aspiring romance writer, blogger, Army vet, book addict
View my complete profile

Blog Rating
Created by OnePlusYou - Free Dating Site

I LOVE THESE BLOGS